Dear customers,
We are delighted to introduce our latest innovative product - the thermostatic mixing valve. As a wholesaler specializing in hot water system equipment, we understand the importance of comfortable temperature control for homes, hotels, apartments, and commercial buildings. Our Thermostatic Mixing Valve is the ideal choice to meet your temperature control needs, offering outstanding performance and a durable solution.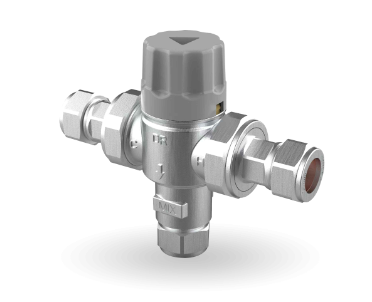 Why choose our Thermostatic Mixing Valve?
Accurate and Stable Temperature Control: Our thermostatic mixing valve utilizes advanced technology and precise temperature sensors to accurately measure and control the water temperature. Regardless of external variations in water temperature, our valve consistently delivers the desired temperature, providing a lasting and comfortable hot water experience.
High Safety Standards: Our thermostatic mixing valve ensures excellent safety performance, effectively preventing scalding accidents. Equipped with temperature limit devices and valves that prevent sudden temperature changes, it ensures the safety of you, your family, customers, or employees while using hot water
Durable and Reliable Design: Ourthermostatic mixing valve is crafted from high-quality materials and manufactured with precision, ensuring exceptional durability and reliability. Whether in residential or commercial environments, our product operates stably over a long period, delivering a lasting and reliable hot water supply.
Wide Applicability: Our thermostatic mixing valve is suitable for various types of hot water systems, including residential bathrooms, hotel rooms, apartment buildings, and commercial structures. Regardless of the scale of your needs, we provide customized solutions to meet your requirements.
Easy Installation and Maintenance: Our thermostatic mixing valve features a user-friendly design, making installation and maintenance convenient. We provide detailed installation guides and user instructions to ensure easy installation and operation of our product. Additionally, our valve incorporates automatic cleaning and self-checking functions, minimizing your maintenance workload.
Whether you are involved in new construction projects or upgrading existing systems, we can provide you with the best thermostatic mixing valve solutions. We prioritize quality and are committed to delivering the finest products and services to our customers.
Contact us now to learn more about our thermostatic mixing valve. We look forward to collaborating with you and providing the highest quality hot water system solutions.
Thank you!